Latest Episode:
Lake Erie Smallmouth

Bob heads to Erie, Pennsylvania for some early summer smallmouth bass fishing. Joining Bob will be guide George Mrozinski. Also on this weeks Sportsman's Table we feature a pecan encrusted fried shrimp recipe.
---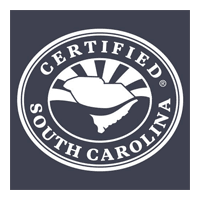 The Sportsman's Table
Sponsored by the South Carolina Dept of Agriculture – Certified SC Program
Pecan Shrimp | The Sportsman's Table

BREADING

TOASTED PECANS 2 CUP
PANKO BREADCRUMBS 2 CUP
CAYENNE ½ TSP
PAPRIKA 1 TSP
SALT 1 TSP

Place all ingredients in a food processor and blend well.
If the mixture is too moist add more Panko a little at a time.
Store in an airtight container until ready to use.

FRIED PECAN SHRIMP

FLOUR 1 CUP
BUTTERMILK 1 CUP
PECAN BREDDING 1 CUP
SHRIMP (PEELED TAIL ON) 24 EACH
CANOLA OIL 2 CUP

Heat the oil in a heavy bottomed skillet until it just starts to smoke.
Dredge the shrimp (one at a time) in the flour, then dip in the buttermilk, and then dredge in the pecan breading.
Once all the shrimp are breaded, carefully add half of them to the hot oil.
Fry the shrimp on both sides until the breading is a deep golden brown.
Remove the shrimp to a towel lined plate and then cook the second half.