Latest Episode:
---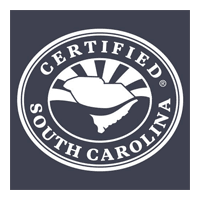 The Sportsman's Table
Sponsored by the South Carolina Dept of Agriculture – Certified SC Program
Bourbon Peach Cobbler | The Sportsman's Table

Peach Mixture

3 cup Peeled and Sliced Peaches
1 Tbsp Butter
2 Tbsp Brown Sugar
1 Tbsp Vanilla Extract
1 tsp Salt
¼ cup Bourbon

Cobbler Batter

1 cup All Purpose Flower
1 cup Sugar
1 cup Whole Milk
½ cup Melted Butter (1 stick)
1 tsp Baking Powder

Peach Mixture

Place Tbsp of butter and sliced peaches in a medium high heat pan. Gently move peaches around until butter is fully melted and peaches are coated. Add brown sugar, vanilla, and salt. Stir gently again until sugar begins to dissolve. About one minute. Carefully add bourbon. *This will cause a very small flame in the pan*. Shake pan gently to ease the flame and let bourbon incorporate. Reduce heat to low simmer and let liquid reduce by half. Remove from heat and let cool while you make the cobbler batter.

Coble Batter

Combine all ingredients and whisk together until smooth and free of lumps.

Pour peach mixture into a greased 8×8 baking pan. Smooth mixture evenly to all edges. Slowly pour batter over mixture. Be sure to cover evenly and to all the edges. Bake at 350 degrees for 30 minutes or until center in stiff only slightly shakes. Serve warm or cold. Refrigerate leftover cobbler covered for 3-5 days.