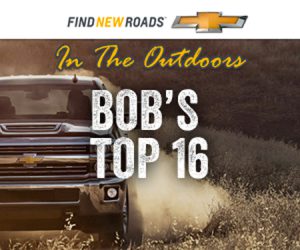 Each week Bob will showcase a new Chevy Destination and set you on a new path to Find New Roads In The Outdoors!
We go all across the country to highlight some of the best hunting and fishing adventures the United States has to offer.
You'll never have to go very far to find the best and most affordable outdoor sporting locations the next time you're planning a trip for yourself or you and a group of friends and family!
Week 1: New Hampshire, Lake Winnipesaukee: Smallmouth Bass
Week 2: Arkansas, White River: Trout
Week 3: Pine Island Sound, Florida