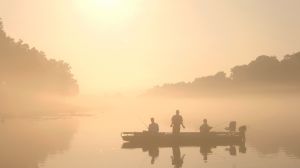 Week #2—Arkansas, White River: Trout
One of the best trout destinations in North America is the famed White River in north-central Arkansas. The wide, clean, clear, cold White provides anglers with excellent trout fishing virtually 12 months per year. And while the bulk of fish are put-and-take rainbows, some giant browns have been taken below Bull Shoals Dam, and there are cool pools alive with brook trout.
The most effective method of working the White is "float fishing." Anglers simply float down the river in large johnboats, casting lures, flies or bait.
One of the best trout outfitting services and places to headquarter on the White River is Gaston's Resort in the town of Lakeview. Gaston's also can recommend guides and outfitters for other nearby fishing.