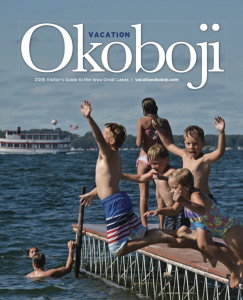 Week #4—Spirit Lake, Iowa: Bass
Popular Lake Okoboji is near the summer vacation spot of Spirit Lake, Iowa and has some of the best overlooked largemouth and smallmouth bass fishing in the upper Midwest. The state record smallmouth weighing 7 pounds, 12-ounces was taken from Okoboji, and largemouths over 7-pounds have been caught, too. Moreover, lots of 5-pound bass- smallmouths and largemouths- are caught annually from the 8,000-acre lake.
Okoboji is basically two connected lakes, each about the same size. West Lake Okoboji is deep and clear, while East Lake Okoboji is shallow, weedy and more stained. Both have excellent bassing, and because of their greatly varying natures, good fishing can be found in one or the other spring through fall.
Motels and restaurants abound in the area, and solid bass fishing information is available at "Oh Shuck's" bait and tackle (phone 712-338-2087).