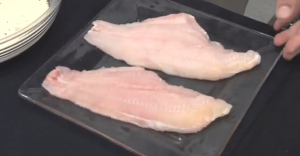 Here's a great recipe from Chef Bill Knapp from the McCutchen House at the University of South Carolina!
Baked Catfish with Vegetable Hash                                              yield:  2 portions
2          ounces             canola oil
2          ounces             whole butter
1          cob                  sweet corn, husked
1          cup                  cracker meal
2          tbsp                 salt and pepper blend
2          each                 catfish filets
1          each                 large russet potato, diced
8          pods                fresh okra, sliced
1          each                 tomato, diced
1          cup                  chicken stock
1          each                 lemon
1.  In a large pan, heat the oil and butter over a moderate heat.
2.  Roll the corn in the pan to gently brown the corn.  Remove the corn from the pan.
3.  On a plate, combine the cracker meal and salt & pepper blend.
4.  Press the catfish fillets into the cracker meal until thoroughly breaded.  Shake off any excess.
5.  Lay the fillets in the pan with the heated oil.  Brown on both sides and remove.
6.  Add the potato, okra, and tomato to the pan.  Saute until tomatoes begin to break down.
7.  Cut the corn kernals from the cob and add to the vegetable mixture.
8.  Deglaze the pan with the chicken stock and reduce the liquid in the pan by one half.
9.  Lay the catfish fillets on top of the vegetable mixture and place the pan into an oven preheated to 400° F.
10.  Bake for approximately 10 minutes, or until catfish flakes easily.
11.  Finish the dish by squeezing fresh lemon atop the catfish.