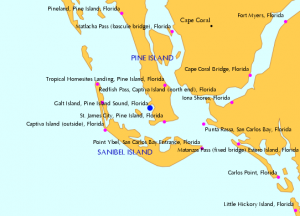 Week 3:
Pine Island Sound is nestled just north of busy Fort Myers and south of Sarasota, just off the Gulf of Mexico. It's a shallow water slice of old world Florida that still resists the building boom and offers outdoor family fun and fishing just like it did "in the ol' days."
Inshore summer fishing for snook and tarpon are world class. Drift fishing for redfish and seatrout on open grass flats is superb. On the nearby Gulf of Mexico beaches (still pristine, and very public) pompano fishing is the best it's been in decades, and snook are in good supply, too. For an angler looking for a choice spot for a family vacation, no place is better.
Secluded sounds, passes and harbors offer great boating opportunities. Shell collecting is world famous on barrier islands in the area, such as fabled Sanibel and Captiva, as well as on undeveloped Cayo Costa. Some of the best snook and tarpon guides in the world work the area. The sound is easy to get to, and flats skiffs, bass boats, even johnboats are regularly used by anglers to tap the area's terrific fishing.
Marinas, motels and access sites abound throughout the area. The most unique spot in the area, and one of the most remarkable places still available to the public in Florida, is Cabbage Key www.cabbagekey.com, It's a private island, offering on-the-water cottages with docks for visitor boats, and a unique restaurant in an old Florida setting not to be missed.