Latest Episode:
SC Senators at Southern Woods Plantation

Bob is in Sylvester, Georgia quail hunting at Southern Woods. Joining Bob will be South Carolina Senators Brad Hutto and Thomas McElveen, who will discuss importance of preserving the natural resources in the state of South Carolina.
---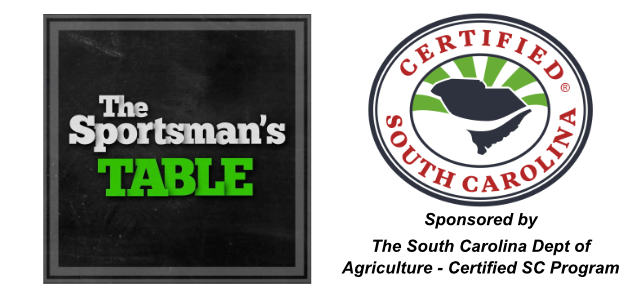 Stuffed Quail & Carolina Grit Cakes | The Sportsman's Table

Quail & Grit Cakes

---

John Boulanger – Executive Chef of "Abundance Restaurant" in Myrtle Beach, SC

Ingredients

4 deboned whole Manchester quail
2 cups fresh spinach
1 tbsp minced garlic 
2 cups chopped cremini mushrooms
3/4 lbs unsalted butter
1 qt heavy whipping cream
3 cup stone ground grits (uncooked)
1/4 cup grated pecorino cheese
2 tbsp cocoa powder
6 cups chicken stock
1/4 cup chopped roasted peanuts 
2 dehydrated guajillo chiles
2 tbsp palm sugar
Sea salt
Toasted ground black pepper
Olive oil
3 whole eggs
1 cup AP flour
1 cup bread crumbs

Procedure:

Mole sauce:

Toast cocoa powder, guajillo  chiles and peanuts until aromatic on low heat.
Add 4 cups chicken stock and palm sugar, reduce liquid by 1/2.
Remove from heat and purée in a blender until smooth.
Season with salt and pepper to taste.

Stuffing

Add 2 tbs butter to pan and sauté mushrooms until tender.
Once mushrooms are tender add spinach, garlic and lightly wilt the spinach.
Add 1/2 cup heavy whipping cream then season with salt and pepper to desired taste.
Let mixture simmer on low heat until cream begins to thicken.
Take the pan contents and place into a blender then pulse until nice chunky but smooth consistency.
Once mixture is cool stuff the mixture into the chest cavity of the quail.

Grits

Place 1/2 pound butter, 3 cups heavy cream and 2 cups chicken stock into a pot and begin to simmer.
Add the grits into the simmering liquid stirring frequently on low simmer (do not allow the grits to boil).
When the grits begin to bloom and firm up fold in pecorino cheese allowing it to simmer for an additional amount of time while seasoning with salt.
Once desired consistency has been reached for the grits ( a velvety smooth but not mushy still a slight bit firm) remove from heat and chill until firm.
Once cook punch grits into a round cake.
Beat eggs until egg wash is made.
Take the grit cakes and dredge them in ap flour, then egg wash and finish in the breadcrumbs.
Lightly fry the grit cakes until golden brown and warm throughout.


Quail cook

Preheat oven to 350 degrees Fahrenheit

season quail with salt and pepper
Place oil in a sauté pan (preferably cast iron) and then add quail breast side down in the pan once pan has been heated over medium high heat
Once quail begins to crisp and turn golden flip it over and place pan in the oven for 6-8 minutes
Pull the pan out and the quail is ready to be served

Plate and enjoy.