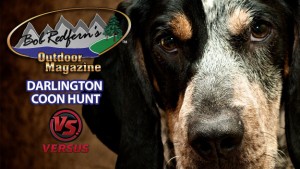 Listen up coon hunters – Join Bob in Darlington, South Carolina for a little coon hunting action and we'll be talking to Mr. Harvey Drawdy. He's got over 60 years experience as a coon hunter!
Darlington is this week's Chevy Destination, besides coon hunting we'll take a tour of Darlington Raceway which recently celebrated a historic milestone in 2009 – 60 years of racing. Making the 60th celebration extra special, old and new traditions united when the Southern 500® race name returned to the track "Too Tough to Tame" on Mother's Day weekend in 2009. The Darlington Raceway of the 21st century remains true to Harold Brasington's ideas of what NASCAR racing should be about – fast, intense action for the fans and dedicated drivers loyal to the sport that America has come to crave.
Don't miss this action packed show full of hunting, racing and music.